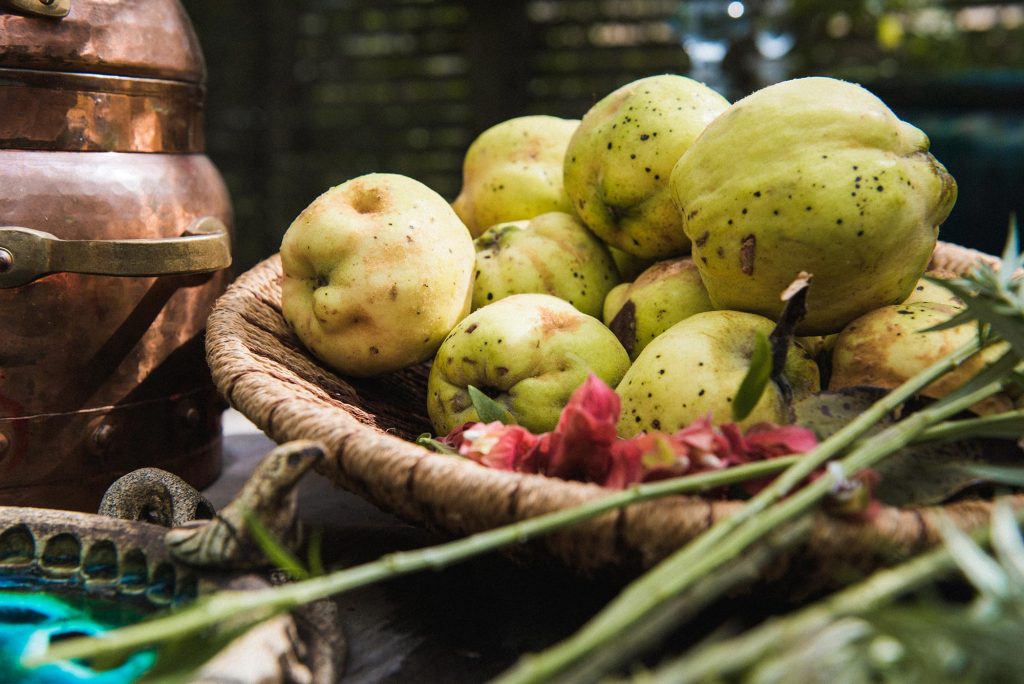 Quince is about to come into season, so what should we do with a harvest of this strange, ugly-beautiful fruit? At Alembics, we love to find innovative new ways to use seasonal produce and the ancient quince is no exception.
On the outside, quinces appear lumpy, with a slightly marred yellow-green skin. But it's what's on the inside that counts. Peel back the skin of the quince and uncover the most beautiful, delicate dusty pink flesh bursting with gorgeous flavour and aroma.
From ancient times, right up to the middle ages, quinces were more widely used and better known than apples! Regarded as Aphrodite's fruit, they have long been associated with love, beauty and fertility.
Check out these two recipes and let us know what you think.
How-to-Make Quince Hydrosol
You'll need a Traditional 3 L Alembic https://www.alembics.co.nz/products/copper-stills/#traditional
3-4 large ripe quinces
1 litre of water
Method
Chop your quince into small pieces and place in the pot of your Alembic still
Boil the water and pour over the quinces so it feels like a wet sponge
Assemble your Alembic still and follow the steps in our online How-to-Guide for making Hydrosol https://www.alembics.co.nz/how-to-guides/#hydrosol
Transfer your hydrosol into a sterile clear glass jar and store in a cool place
Fill a spray atomizer and use your aromatic Quince Hydrosol daily to keep your skin hydrated.
How-to-Make an Enlivening Quince Face Gel
After you have finished your Quince Hydrosol, strain the fruit from the pot and refrigerate the liquid.
The refrigerated liquid will smell sweet and lovely, be a beautiful deep pink colour, and should have a viscous gel-like consistency. Quince is very rich in pectin and antioxidants, so it is wonderful for dry or dehydrated skin.
You can use this cool, enlivening gel on its own by painting it onto your face and allowing it to dry before rinsing.
Or, you could try mixing the Quince Gel with white or pink clay to make a face mask. Use your quince hydrosol to mist your mask and then rinse it off.
As long as it's refrigerated, the Quince Gel will keep for at least 2 weeks. It can also be frozen so that you can use it throughout the year.
And just one final note — it's always a good idea to patch test first, to make sure you don't have an allergic reaction!