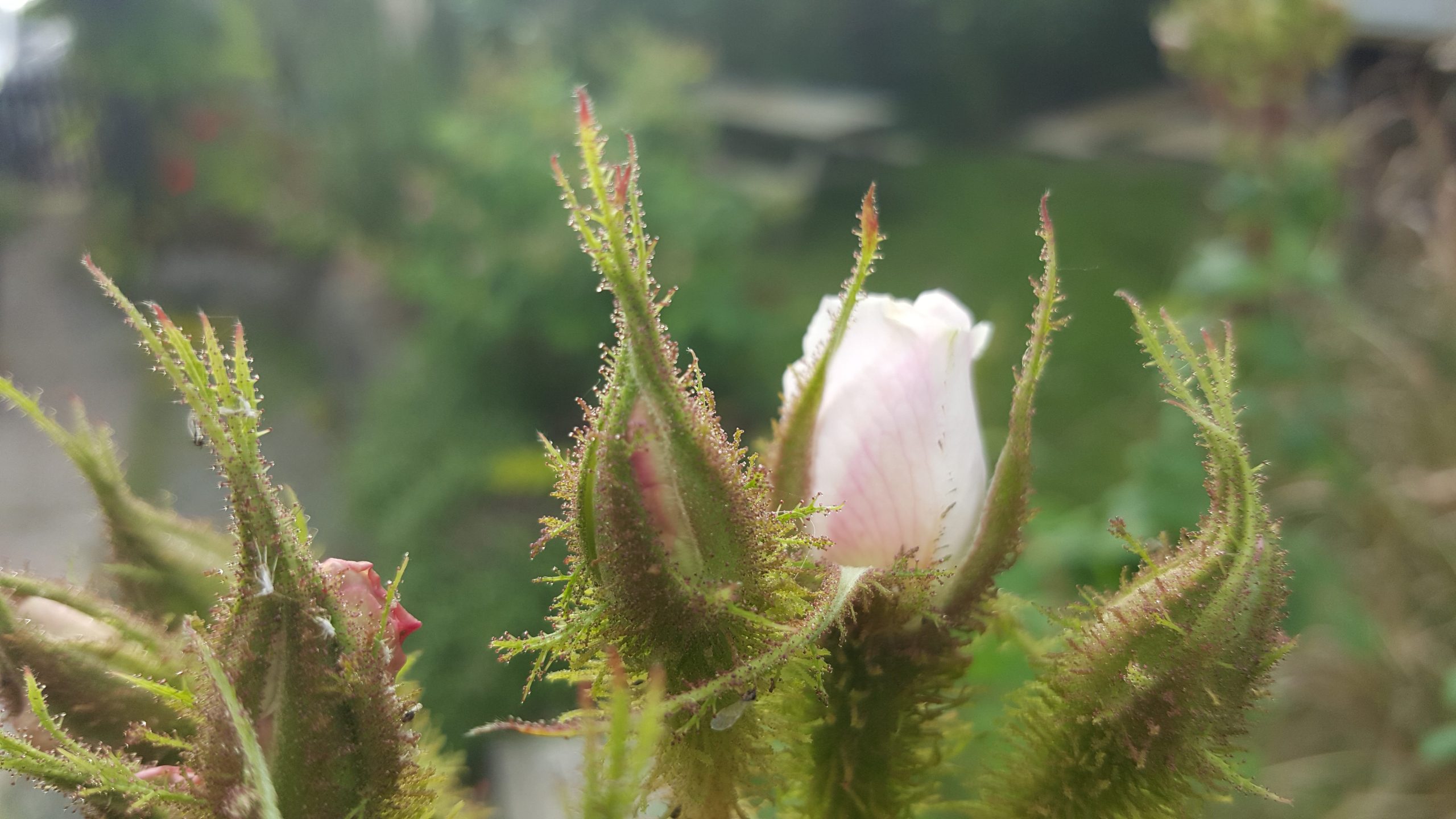 Ode To Rose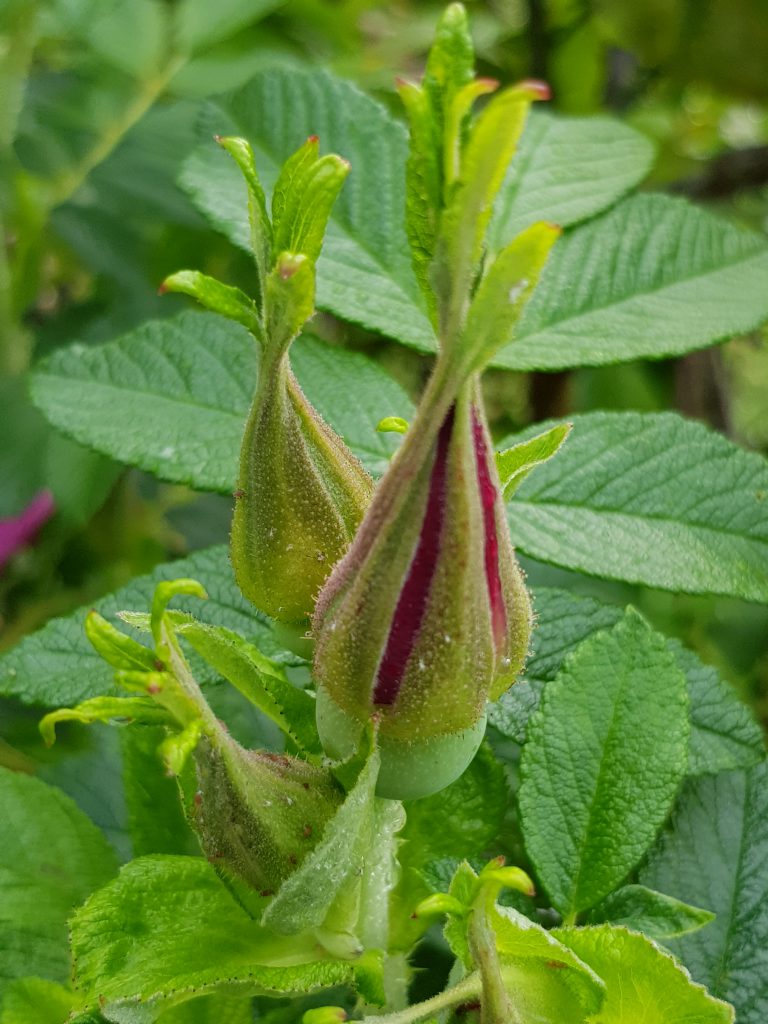 The scent of a beautiful rose is special, touching a place deep inside us, engaging a sensory apparatus older, more primordial and intuitive than the intellect. In our era of 'too much', where we are continually bombarded with visual overload, it pays to get back to basics and enjoy the pleasure of the forgotten, olfactory senses. 
Aside from the rose's most obvious and delightful qualities— principally its heavenly perfume and stunning colour palette, it is the rose's joyous and celebratory symbolism that makes it perfect for Christmas. And with so many of the older, fragrant varieties now in bloom, it seems prudent to talk about a few tried and tested extraction techniques, along with some more inventive ways to use these amazing flowers. 
Roses have been utilized by many cultures, both ancient and modern, for thousands of years. Rose oil and Rosewater being two of the most common alchemical transmutations of the flower's wonderful aroma.
But did you know that it takes ten thousand individual fresh roses in full bloom to produce just one milliliter of rose oil? For small scale lifestylers and hobbyist distillers, Rosewater is a little more achievable. In this article, we talk about Rosewater and a few other more unusual ways to extract the timeless beauty, flavor, and aroma of rose. 
Before continuing, however, we need to hone in on the rose varieties suitable for the extraction techniques discussed here. Because as any rose enthusiast will tell you, there are literally hundreds of different rose species, many of which yield little to no aroma.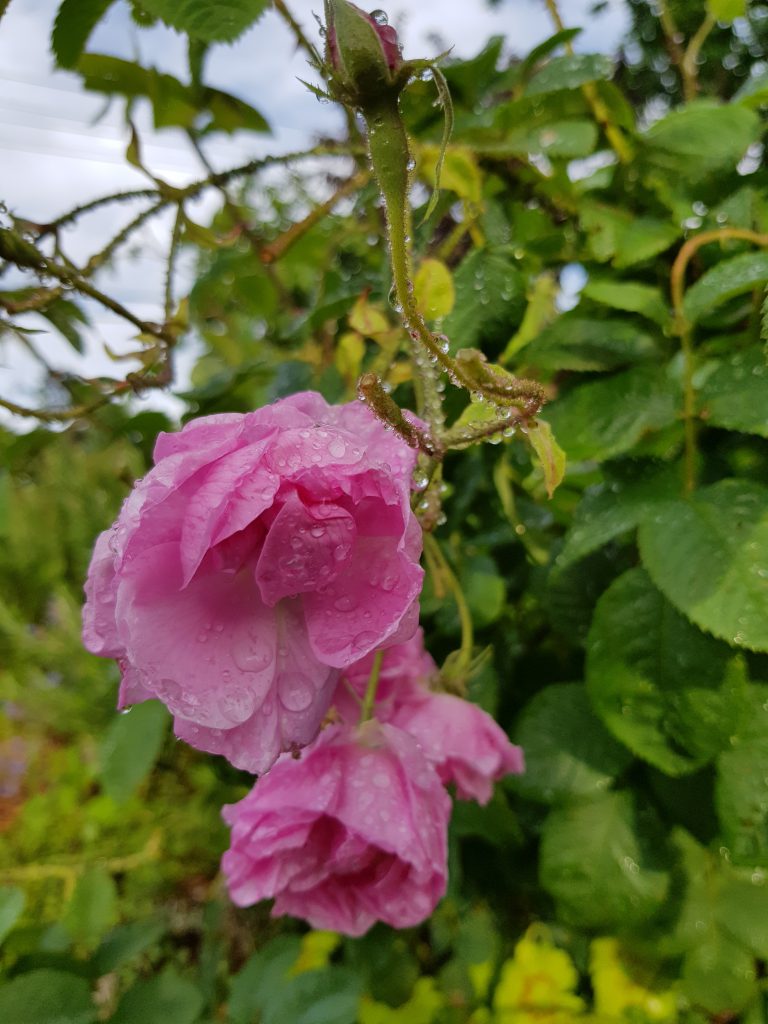 Respected aromatherapist and distiller of aromatics, Jeane Rose recommends using the older garden rose varieties. Following her lead, we suggest that you use any of the four species listed below to make Rosewater, Rose Gin, Rose Wax, and Rose Sherbert. 
  Rosa alba, White Rose. This species of rose may have been around as far back as the 1st century! Rosa alba or White Rose have light pink to white fragrant blossoms. 
  Rosa bourboniana, Bourbon Rose. Bourbon roses are typically highly perfumed, full and cupped in shades of light pinks to deep pinkish-reds.
  Rosa centifolia, Cabbage Rose. As the name suggests, Centifolia or Cabbage Roses are packed with petals, 100 or more with a full, rounded, lush blossom shape. Centifolia blossoms are beautifully fragrant of course and appear in shades of white to pink.
  Rosa damascena, Damask Rose. In our view, possibly the most special rose variety. Damask roses are white to shades of deep pink and are seasonally once-blooming.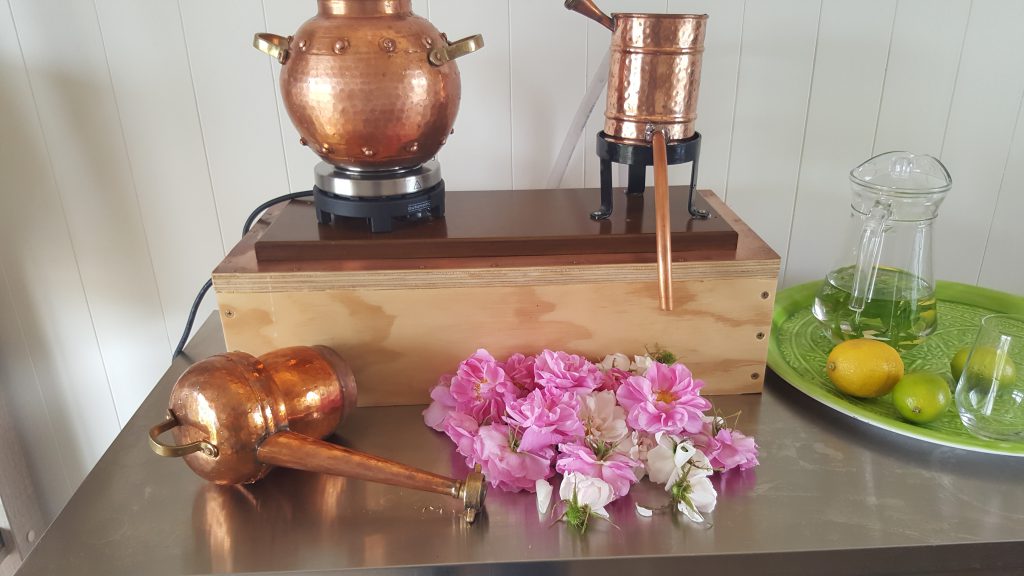 Small distillations of Rose Hydrosol or Rosewater can be made at home with a Traditional Alembic still, either 3L or 5L are ideal sizes to start with. Our favorite old garden rose variety to use is Rosa Damascena, which flowers in late spring to early summer for up to 8 weeks. 
Start by picking your rose blooms early in the morning, before the heat rises and flowers are still dewy. A single Damask rose bush can produce up to 300g of fresh roses a day. It is important to note that our roses are grown on Waiheke Island, in the Hauraki Gulf of New Zealand, which does not offer the most ideal growing conditions, so please remember that if you are in other geographical areas your rose yields may be greater than ours. 
In a Traditional 3 L Alembic still, you'll need as little as 200g of fresh rose petals to 500ml of water to yield 200ml of beautiful fresh Rose Hydrosol. If you're using a 5L Traditional Alembic use 500g of fresh rose petals to 1200ml of water to yield 500ml of Rosewater. 
If at first, you notice a slightly musty, green and grassy aroma, let the Rosewater sit in a cool dark place for a few months. The aging process will develop the rose notes beautifully. For more information about distilling hydrosol visit our how-to-guides. https://www.alembics.co.nz/how-to-guides/#hydrosol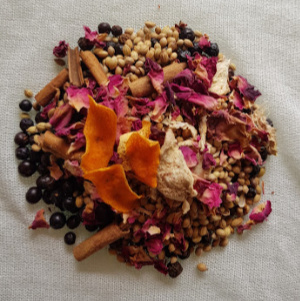 The old rose varieties also do wonderfully well in Gin. Dried Rosa Centifolia petals are best and work very well with other fragrant, garden botanicals such as chamomile, lemon verbena, green lemon, and bitter orange. A 3L Alquitar or a 5L Column Still are both good choices for novice gin distillers who want to make small batches of spirit from a combo of classic gin botanicals and fresh aromatics from their gardens.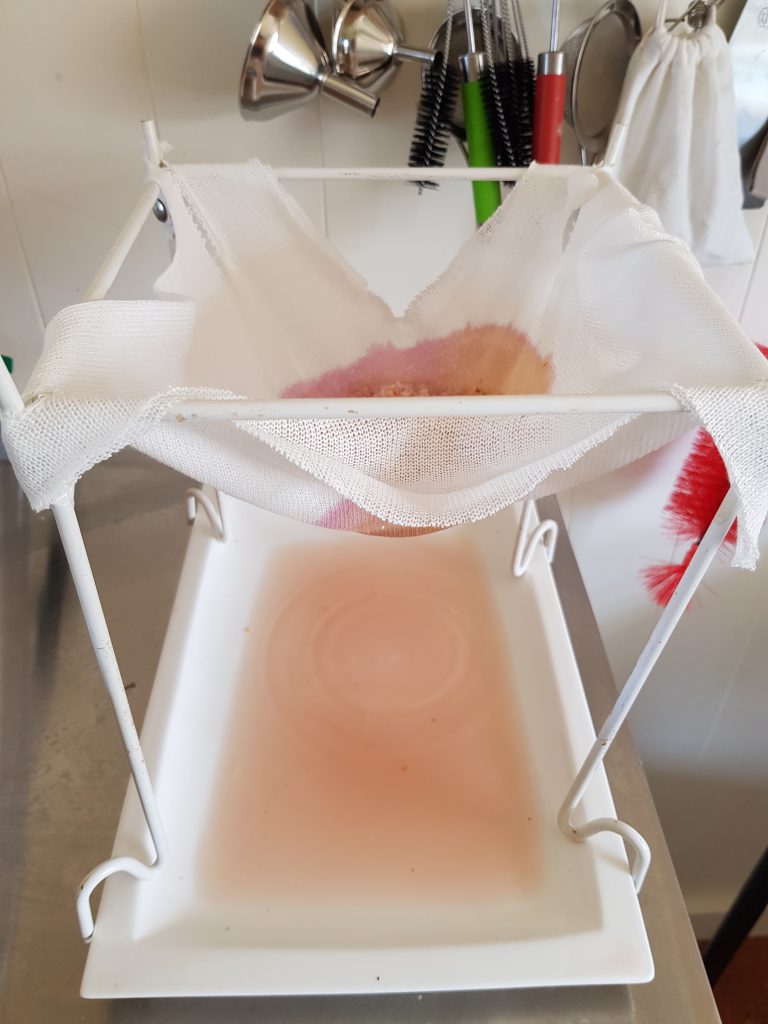 And now to our latest, more unusual fascinations: Rose Wax and Rose Sherbert. The idea of Rose Wax was developed by American perfumist and distiller, Dabney Rose. Dabney grew exclusive and highly perfumed flowers, which she used in absolutes for luxury perfumes. But Dabney also developed a way to work with fragrant flowers, at a craft level, by using high strength ethanol as a solvent for extraction. 
Start by collecting rose flowers and petals that are slightly past the optimum distilling time, two-day-old or afternoon blooms. It is best if the flowers are dry rather than wet. Strip the petals, you'll need approximately 200g and place in a clean glass jar. Pour 100ml of ethanol over the petals and let them collapse, before blending to a pink mush with a stick blender. Strain through a sieve into a flat shallow platter, and leave in direct sun. 
The ethanol will absorb the colour and rose fragrance, and the heat of the sun will evaporate the alcohol and leave a sticky, waxy magenta residue the consistency of wax. Rose Wax has lovely honey and toffee notes and can be added to face creams and facial serums or rolled into balls and dried for rose beads. 
Finally, Rose Sherbert. A sherbert is different from a syrup or cordial. Unlike a traditional sweet syrup, no heat is used in the preparation of a sherbet. A sherbet has gorgeous complexity and depth of flavour and a vibrant botanical brightness which makes it far less sugar-laden than its cordial cousin.  
The recipe below creates a bright pink and highly fragrant liquid that can be added to gin and vodka beverages. Poured over iced soda water for a gorgeous zero abv drink, or drizzled on top of ice cream and many other sweet Christmas favorites.  It's 100% natural, makes a fantastic gift for friends and family and it is very simple to make.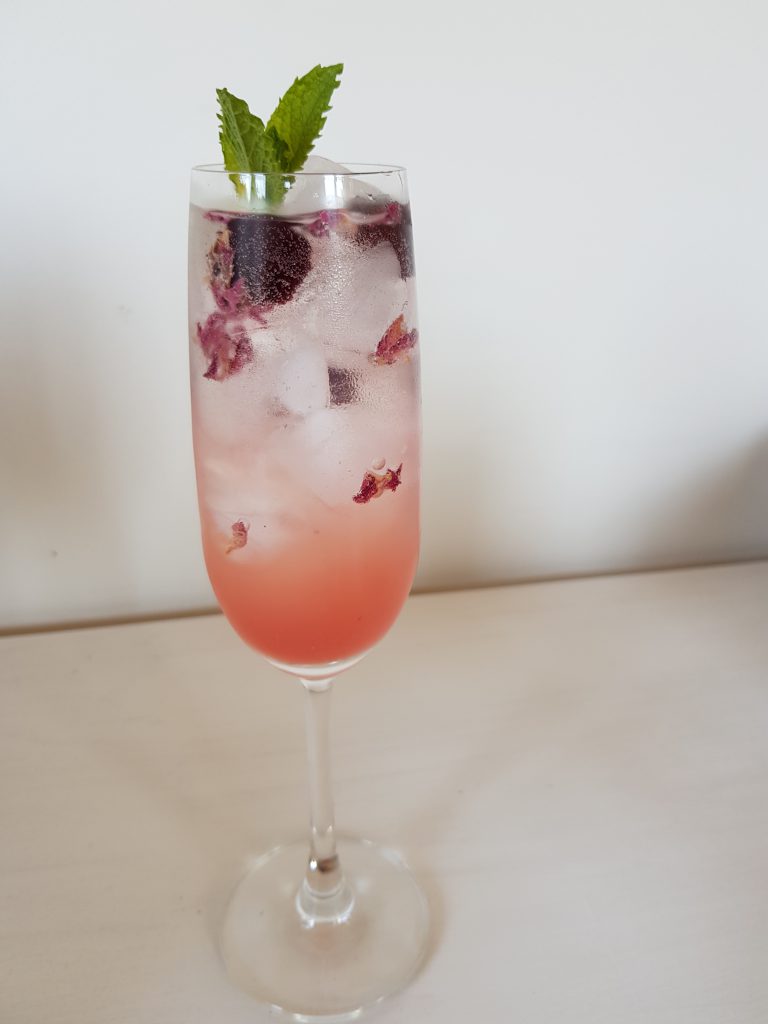 Christmas Rose Sherbet
Ingredients 
6 fresh, fragrant unsprayed roses 
1 generous handful of fresh garden mint leaves
1 cardamom pod (optional)
100g fresh or frozen strawberries
6 lemons
250g sugar

Method
Take the petals off the roses and place them in a glass bowl
Peel the lemons and add them to the bowl 
Tear the mint leaves into small pieces and add them to the bowl 
Add the sugar
Using a muddler or pestle thoroughly bruise the rose petals, mint leaves, lemon peel, and sugar. 
Mix the strawberries into the now rose-tinted sugar  
Juice the lemons, and add to the mix
Cover and leave in fridge overnight
Strain through a fine-mesh strainer, jelly bag or muslin cloth 
Bottle in a clean glass with a sealable lid
Keep refrigerated and it will last up to a month. 
We hope you've enjoyed our Ode to Rose article. The team at Alembics wishes you a wonderful, Rosey Christmas and a safe and happy new year.